As new parents, we want to keep our babies safe and comfortable. One common question parents have is, "How much weight can a crib hold?"
It's a valid concern, especially if you want to get in the crib with your baby to calm him during a particularly fussy night. Been there, done that.
In this article, we'll explore the factors that determine a crib's weight limit, as well as some tips for ensuring your baby's safety while they sleep. So, let's dive in and learn more about how to choose a crib that will keep your baby secure and sound.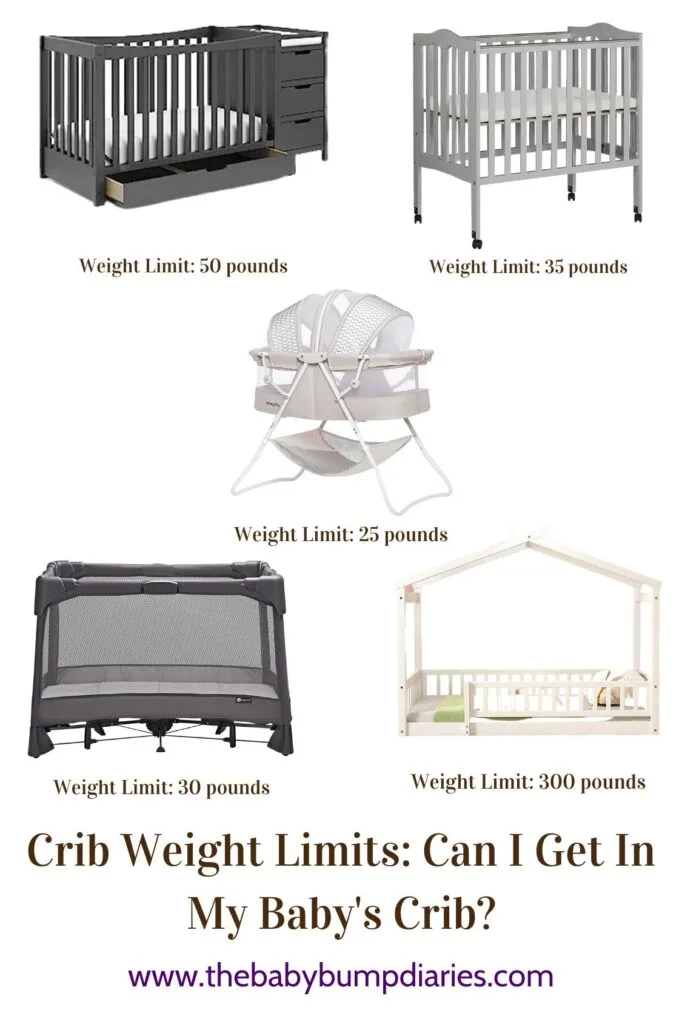 Factors that Determine a Crib's Weight Limit
When shopping for a new crib, safety is a top priority. One important factor to consider is the weight limit of the crib. But how is a crib's weight limit determined?
Crib materials
The type of wood, metal, or other materials used in the crib's construction can affect its weight limit. Sturdy, high-quality materials are more likely to support a higher weight limit.
Crib design
The design and structure of a crib can also impact its weight limit. Cribs with a solid, stable frame and secure hardware are generally able to hold more weight than those with a flimsy or unstable design.
Mattress type
The type of mattress used in the crib can also affect its weight limit. A firm, supportive mattress will distribute your baby's weight more evenly and help prevent damage to the crib.
Related: Top 8 Questions You Need to Ask Before Using a Crib Mattress in a Toddler Bed
Typical Weight Limits for Cribs
When it comes to determining the weight limit of a crib, there are a few things to keep in mind. The American Society for Testing and Materials (ASTM) sets safety standards for cribs, including weight limits.
Typical weight limits depend on the type of crib.
Standard cribs
Many standard wooden cribs, such as the Graco Remi or the DaVinci Charlie, have a weight limit of 50 pounds. This includes the weight of the baby and any additional items in the crib, such as blankets or toys.
That said, some of the most inexpensive wooden crib options, such as the Delta Children Heartland sold on Amazon, have a recommended weight limit of just 20 pounds. The Dream On Me 2-in-1 Lightweight Folding Portable Stationary Side Crib is another lightweight crib that can support up to 35 pounds.
The sturdier a crib is, the more weight it can hold. For comparison, the item weight of the Delta crib is 38.7 pounds, while the item weight of the Graco crib is 105 pounds. And that Dream On Me stationary crib weighs just 32 pounds!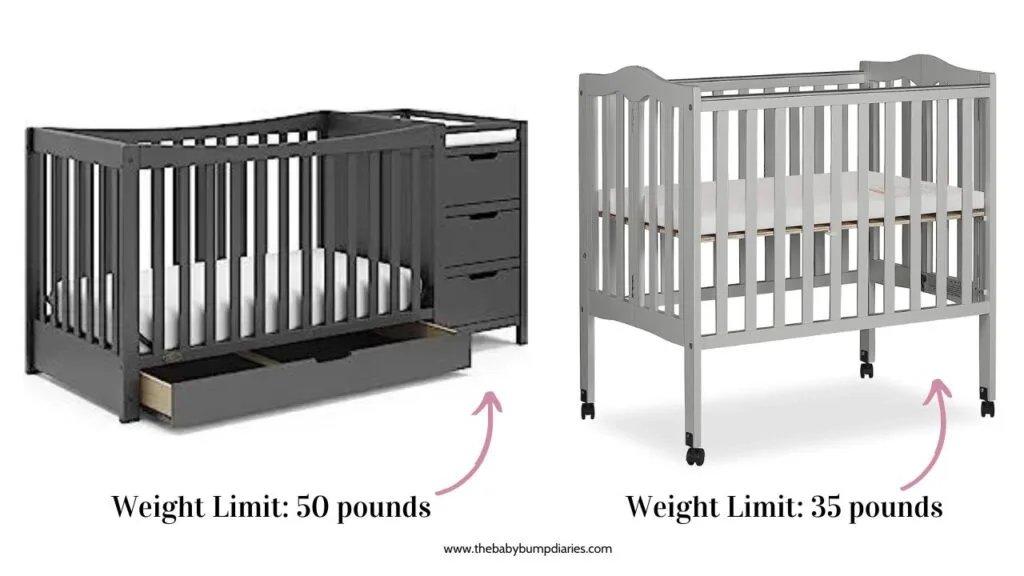 While metal cribs are typically lighter than wooden cribs, they can still support up to 50 pounds. The Namesake Winston 4-in-1 Convertible Metal Crib weighs just 70 pounds but can support up to 50.
Convertible cribs
Convertible cribs, which can be converted into toddler beds or full-size beds, may have higher weight limits than regular cribs.
Out of all the convertible cribs we checked, 50 pounds was the recommended maximum weight limit.
Bassinets and play yards
Bassinets and play yards typically have lower weight limits than standard cribs. Bassinets tend to have a weight limit of 25 pounds while playards can support slightly more, with most recommending around 30 pounds.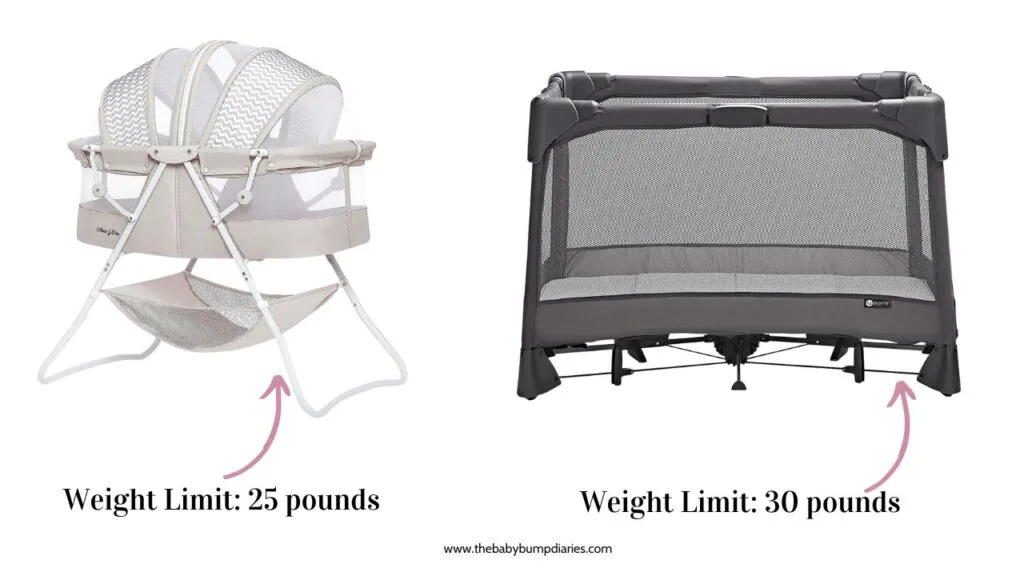 The popular Dream On Me Karley Bassinet has a recommended maximum weight limit of 25 pounds.
Our favorite travel playard is the 4moms Breeze GO, and it has a weight limit of 30 pounds.
Will I Break the Crib If I Get In With My Baby?
It happens to all of us… we've been trying to put our baby to sleep in their crib and no matter what we do, they continue to wail.
Perhaps you've picked them up and rocked them, and they may even fall asleep on your shoulder! But as soon as you put them down in their crib, they start crying again.
It can be super frustrating, and an easy solution would be to climb in the crib with your little one. Offer some closeness and comfort until they fall asleep, and then you can slowly and quietly get out of the crib.
However, despite what some other articles online say, cribs are not meant to hold a baby and an adult. Typical crib weight limits are around 50 pounds, so adding extra weight can compromise the crib's safety.
I won't lie – I've personally climbed into our baby's crib on a particularly difficult night, but looking back, that was a bad, sleep-deprived decision. I could've broken the crib as it's only meant to hold up to 50 pounds. Thank goodness the crib is still intact.
Montessori floor beds
If you do want to climb into the crib to help your baby fall asleep, just make sure the crib's weight limit can support you and baby.
An alternative is looking into the Montessori method, which promotes floor beds (just a twin or full mattress on the ground). With this setup, you can easily lay with the baby until she falls asleep without risking breaking a crib.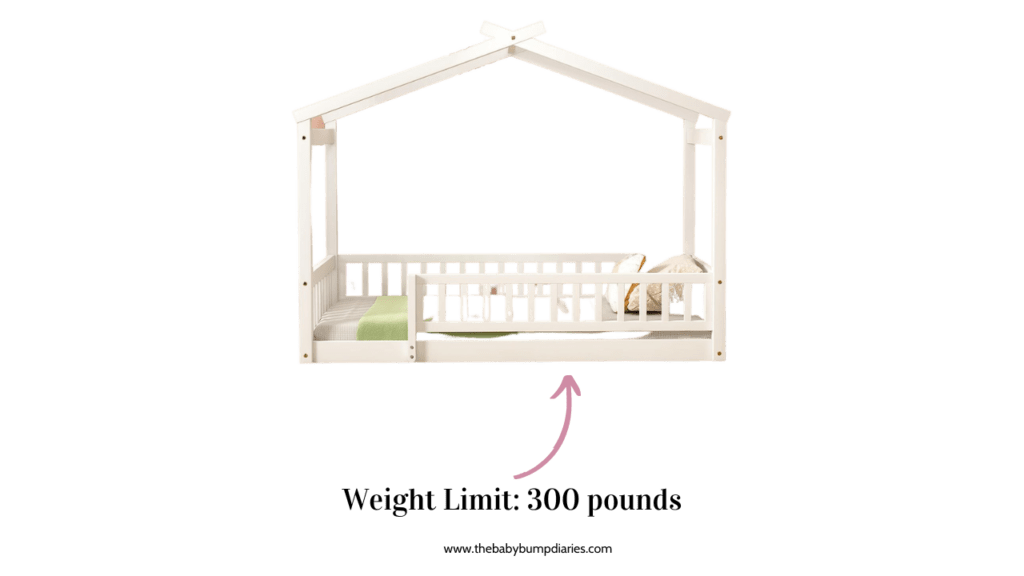 The weight limit of a typical floor bed is 250-300 pounds, though some floor beds even say there's no weight limit at all.
That said, the actual mattress you put on a floor bed frame has a weight limit. Mattresses especially made for toddlers and small kids have weight limits of around 100 pounds, while typical mattresses can hold up to 250 pounds per person.
However, it's less of a safety concern and more of a product quality issue. The mattress can dip or sag when the weight limit is exceeded. Plus, exceeding a mattress' recommended weight limit for a short time – just one more book or one more cuddle! – is nothing to worry about.
Tips for Ensuring Your Baby's Safety While They Sleep
As a parent, your baby's safety is your top priority. When it comes to ensuring your baby's safety while they sleep, here are some tips to keep in mind:
Regularly inspect the crib for signs of wear and tear
Check the crib's hardware, slats, and mattress support regularly to make sure everything is in good condition. If you notice any damage, stop using the crib immediately and get it repaired or replaced.
Avoid heavy blankets or toys in the crib
To reduce the risk of suffocation, avoid putting any heavy blankets, pillows, or toys in the crib with your baby. Instead, dress your baby in warm, lightweight sleepwear.
We love sleep sacks in our house – they keep baby warm but ensures their face doesn't get covered by a blanket.
Place the crib away from windows and cords
Keep the crib away from windows, blinds, and cords to reduce the risk of strangulation or entrapment. Make sure there are no cords or strings within reach of the crib.
This also goes for the baby camera – we hang our camera directly above the crib, and the cord hangs down on the wall. We covered our cord with an on-wall cable concealer to make sure our kiddos didn't grab the cord through the crib slats.
Follow safe sleep guidelines
The American Academy of Pediatrics (AAP) recommends that babies sleep on their backs on a firm, flat surface free of any soft bedding or toys.
Make sure your baby's sleep environment is cool, quiet, and dark to promote restful sleep.
Conclusion
While weight limits can vary depending on the specific crib, factors such as materials, design, and the age and weight of your baby can all impact a crib's weight limit.
That said, no crib is made to support the weight of a baby and a parent. If you're set on being able to cuddle your baby to sleep, you might consider looking into a floor bed, which can safely support 250-300 pounds.
Rebekah is a writer and mother of three children. She is also the woman behind Two Mama Bears, a blog for parents with babies and toddlers.