If you live along the East Coast, chances are you've taken an Amtrak train at least once.
Over the years, I've traveled up and down the coast on Amtrak more times than I care to count, but the majority of those trips occurred in my childless days, aka the "easy" days as far as traveling is concerned.
However, I'm happy to report that riding Amtrak with a toddler isn't too bad; in fact, it can actually be enjoyable if done the right way!
I've compiled a list of 20 tips to help guide you in the booking and packing process, navigating the train station, and the actual trip! Good luck!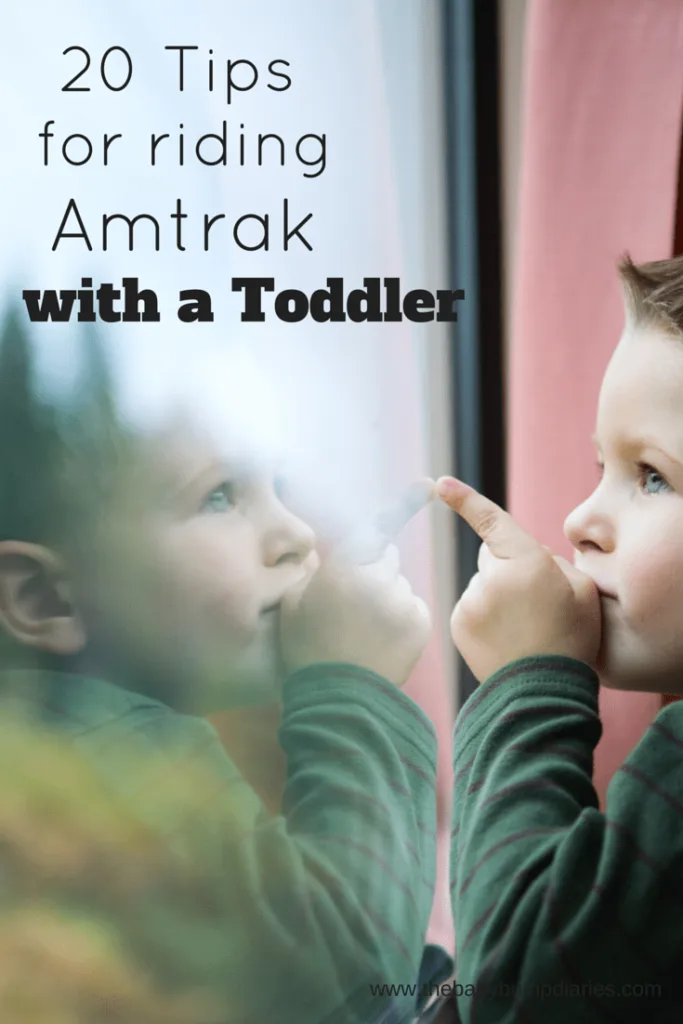 Booking Tips
If possible, avoid peak hours and holidays if traveling alone. Trains are frequently sold out, crowded, and hectic – not the ideal situation for traveling with a young child.
Be sure to check the length of the trip when booking. Regional trains generally stop most often and they're not always the cheapest option.
Infants (under 2 years of age) ride free with a ticket-paying adult (18 +), and children (2-12) can receive a 50% discount off the cheapest adult fare. Each adult is allowed to travel with up to two children at the 50% off discount rate (visit Amtrak for more detailed information).
If possible, book travel with your child's nap/eating schedule in mind to avoid dealing with a cranky passenger.
Packing Tips
If traveling alone, pack light and efficiently – depending on the length of your stay, try to implement a one-bag-per-person rule.
A lightweight stroller or baby carrier is a must to help trek through the train station and entering/exiting the train, especially if you're traveling with a non-walker.
If you bring a stroller, utilize the handles and underneath compartment to hang and store items – just don't forget to balance the weight of your child and any bags; otherwise, the stroller will tip.
Pack an ONBOARD bag to include everything you might need during the trip to avoid visiting the overhead storage compartment. Include snacks, entertainment, blankets, etc.
Wear a cross-body bag or wristlet if you are traveling alone with a baby or toddler to keep your personal items safe and insight.
Train Station Tips
Arrive at least 30 minutes before your scheduled train departure. Add additional time if you are departing from a large and busy train station, like New York Penn.
Utilize the assistance of the Red Cap personnel and other Amtrak employees to help with luggage, navigating the elevators, and entering/exiting the train.
Be aware of the gap between the train and the platform if using a stroller; it is surprisingly wide.
The Red Cap personnel know train track and timing information. Ask to be informed ahead of time so you can slowly make your way to the platform in a busy station.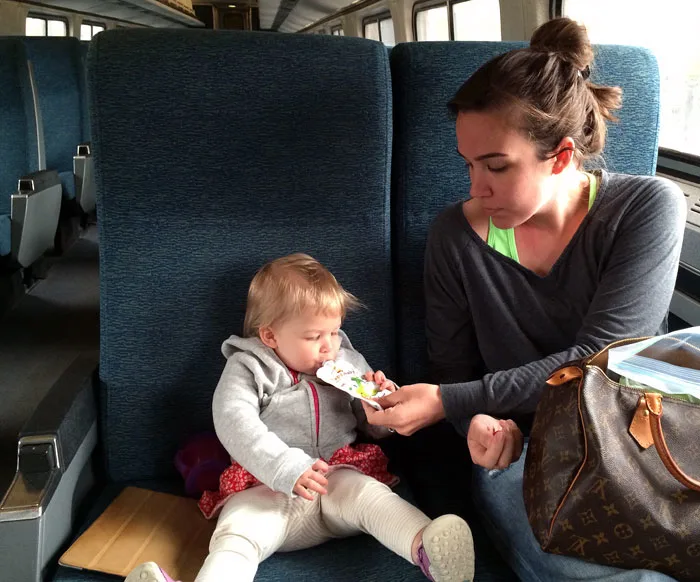 Trip Tips
Take advantage of the group seats; they are reserved for families.
If the train isn't sold out, your toddler might be able to occupy his or her own seat. It's the luck of the draw.
Seats at the front of the car are reserved for handicapped passengers, but if no one is utilizing them, pull up your stroller and let your baby face you. It is a great way to travel, but please be mindful of the other passengers' needs before you sit.
Amtrak trains have electrical outlets lining the walls –they're great for charging, but be careful with young ones.
Most trains have a cafe car for picking up snacks and drinks, but there are not a lot of healthy options for the kids. Note, Acela trains have rolling food carts, which allow you to stay in your seat.
Avoid the Quiet Car if possible, anything above a whisper will elicit eye-rolling from fellow passengers.
Infant changing stations are difficult to come by on the train, so come prepared to make it work elsewhere. 🙂
Overall, riding Amtrak with a toddler was pretty painless. If you are fortunate enough to travel with a friendly crew, in my experience, they have gone above and beyond to help families traveling with young children.
My best advice is to take advantage of the Red Cap service, even if just to ask for train information.
Have you traveled via train with children? How was your experience?
Rebekah is a writer and mother of three children. She is also the woman behind Two Mama Bears, a blog for parents with babies and toddlers.